Dentist – Brownstown, MI
Meet Dr. Zachary Wisniewski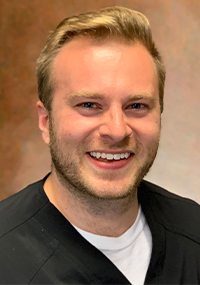 Dr. Wisniewski grew up in Brighton and has finally moved back to Michigan after eight years of going to school out of state. His interest in dentistry started when he was just a child – his father also worked as a dentist in the Chelsea area! He worked at his father's office in the summers throughout high school and his undergraduate college career. During this time, he became very familiar with every aspect of a normal dental office, filling in at several positions besides just seeing patients. His passion for the field quickly stemmed from a love of helping others. Today, he really enjoys getting to know new people and wants to see them smile and laugh as much as they can in a day!
A Catholic Central High School graduate, Dr. Wisniewski attended the University of Dayton for his undergraduate degree and then achieved his Doctor of Dental Surgery at the Marquette School of Dentistry in 2019. He finished his schooling with the drive to continue his education through additional trainings and courses. He is someone who strives to do everything he can for his patients due to his concern for their wellbeing. There are very few times in a day where you won't see him smiling or laughing. He can't wait to grow the fun-loving, professional environment that Ultimate Dental offers daily.
While at the Marquette School of Dentistry, Dr. Wisniewski reached out to the Milwaukee community through different charitable acts. He participated in Oral Cancer walks, went to inter-city schools to teach children about oral hygiene, and tutored during his free time. As for personal hobbies, he really enjoys relaxing with his family and friends, going to movies, attending sporting events, trying new foods, being active, and throwing out good puns whenever he gets the opportunity.