Dental Services – Brownstown, MI
Ultimate Dental provides a strong foundation for your oral health
As you go through every stage of life, Ultimate Dental wants to be there for you with the general dental care treatments and procedures you and your family need to maintain oral health. But we go beyond the basics of oral health, offering complete cosmetic dentistry care as well to cover every concern you could have about your smile. From children's dentistry for the youngest of our patients to restorative dental care for those who've experienced more of life, we have your dental care covered at Ultimate Dental in Brownstown, Michigan.
What dental care services can you expect from Ultimate Dental? Click the links below to learn more!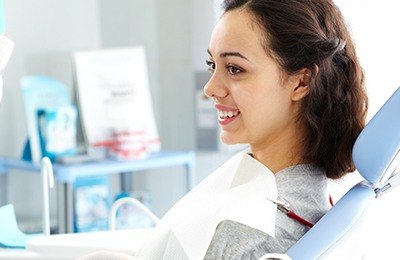 Cosmetic Dentistry for Every Smile
Whether your smile is just a tad tarnished or in need of a complete makeover, we have the cosmetic dentistry service that can help.
Restore Your Smile for Better Health
Missing teeth? Cavities? Chips and breaks? We offer a variety of restorative dentistry care to help you keep your smile functioning throughout all the years of your life. And with CEREC one-visit crowns, we can provide you with same-day service and great smile restoration!
Keep it Simple
Want to know the secret to a great smile? Preventive dental care is always the first line of defense against problems that threaten the health and beauty of your smile.
Dr. Sammi Hadad enjoys making sure our Brownstown dental office is a comfortable place to be where you can feel like you are part of the family. So if you want to come to an office where you are not treated like a stranger and want access to complete dental care, contact Ultimate Dental today. We serve Brownstown, Riverview, Woodhaven, and the rest of the Downriver communities... with a smile!