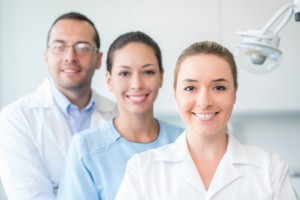 When looking for high-quality dental services, you cannot just type "where is a dentist near me" into Google to find the best choice. When it comes to your oral health, you have unique needs. You cannot just pick the first dentist in Brownstown that appears in the search results. You need to take the time to research your options to make the best selection based on your needs and comfort level. With the dentist you choose being an invaluable asset to your dental health, take the time to understand your options to make a wise decision.

Comprehensive Care
To enhance the level of care and convenience you receive, you need a dentist who offers complete, comprehensive care under one roof. Life is busy. You do not have time to run to different dental offices for each area of treatment. Choose a dentist who not only offers preventive care, but restorative and cosmetic services as well.
At Ultimate Dental, we do not just offer the basic dental services. We offer extensive services, including many areas of specialty, like dental implants, to ensure all your needs are met from one convenient location.
Advancements in Technology
Now, the level of care you receive from a dentist is supported by the technologies they offer in-office. Various advancements in technology allow you to benefit from more comfortable and accurate treatments. In addition, many advancements also streamline the care you receive. For example, our office offers CEREC technology, allowing you to benefit from an array of same-day dental services. We also use digital x-rays, dental lasers, and a state-of-the-art sterilization procedure to ensure your care is safe and comfortable while delivering unsurpassed results.
Experience You Can Trust
Naturally, the care you receive is only as good as the hands performing the services. Look for a dentist who has exceptional training and qualifications, as well as a positive track record for success. Dr. Sammi Hadad does not just hold a dental degree from the University of Mercy Dental School, but also has a master's in public health from the University of Utah. As a trusted dentist at Ultimate Dental since 2000, she has a long-standing reputation for providing world-class care to families in the area.
Affordable Care
Too often, people avoid going to the dentist due to the cost of care. You need a dentist who makes dental care more affordable for all budgets. In addition to choosing an in-network dentist, look for one who offers flexible payment options. For example, Ultimate Dental accepts CareCredit and major credit cards to make paying for dental services easy.
Your Top Choice for Quality Care
When choosing a new dentist, do not just choose the first dentist that appears on a search engine. Spend time researching your choices to ensure you make a wise investment in your oral health. With the right dentist by your side for many years to come, you will promote dental health while enjoying your time at the dentist.
If you are ready to benefit from the best dental practice in the area, contact Ultimate Dental today to schedule a consultation.