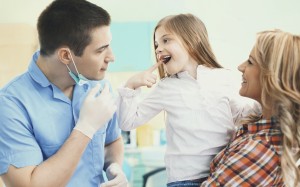 You take great pride in ensuring your family maintains healthy, beautiful smiles. You make sure everyone brushes, flosses, and eats a healthy diet. However, home oral hygiene habits are only half of the care your family needs. Your family needs a great family dentist in Brownstown. The American Dental Association recommends everyone over the age of two visits their dentist twice a year for preventive cleanings and checkups. But, this can create a certain challenge. You need a dentist who can meet the needs of each member in your family through all stages of life. At Ultimate Dental, we treat patients of all ages, offering the services your family needs from one convenient location.

Convenient Care for All Patients
When raising a family, your schedule is busy as it is. You do not have time to run to different dental offices for everyone in your family. To simplify dental care, you need a dentist in Brownstown who offers all the services your family needs.
Each member of your family will have different oral health needs at each stage of life. These needs will change over the years. With one dentist by your family's side, everyone's needs will be met from one dental office. This not only saves you time and money, but also allows us to provide more effective dental care.
By building a relationship with each member in your family and monitoring their oral health over the years, we can provide a higher quality of care. We will have a better understanding of how genetics plays a role in your family's smiles. This allows us to provide intervention for potential dental problems, decreasing the need for more invasive treatments in the future. In addition, all your family's dental records will be kept at one location for easy reference.
Lifelong Commitment to Oral Health
Research shows that children who visit one dentist regularly are more likely to maintain their oral health into adulthood with regular dental visits. The younger a child starts to see their family dentist, the more likely they are to develop a trusted relationship with their dental team. As a result, children will look forward to seeing the dentist while also understanding the importance of regular dental care.
Together, we will set the right foundation for a lifelong commitment to oral health. We will not just meet your child's dental needs today, but also as they age. We become a trusted and valuable asset to your child's oral health—even as they reach the teen years and beyond.
Benefit from One Convenient Location
It is difficult raising a family. Dental care should not further complicate your life. You need one caring dentist in 48183 working with your family to simplify your life while enhancing your family's dental health. With one amazing dental team, we will make dental care more convenient and accessible so you can spend more time focusing on more important matters.
If you are ready to benefit from comprehensive dental care for the entire family, contact Ultimate Dental today to schedule a consultation.