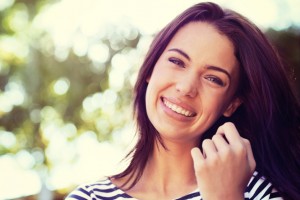 There's nothing you love more than relaxing with some popcorn and a movie. Popcorn becomes your enemy however, when you take that bite that breaks down you old filling. The next day you're told you need a dental crown, and you wonder how you'll ever work that into your busy schedule. The last time you had a crown done it took 4 weeks to complete and multiple appointments because your temporary crown kept breaking or falling out. Have you heard about same-day crowns in Brownstown?
Why Do I Need a Crown?
When your tooth suffers from decay, a fracture, or a broken down restoration that is larger than what a dental filling can repair, you may need a dental crown. A crown replaces your entire tooth structure, fits over your remaining tooth structure, and protects your root.
Dr. Sammi Hadad will design your crown to match your compromised tooth in both form and aesthetics so it will naturally complement your smile. You'll enjoy the same function you had with your natural tooth, which means you can chew, talk, brush and floss your crown as you were used to.
Ultimate Dental Offers Same-Day Crowns
Dr. Hadad and her dedicated team have great news for you! Ultimate dental is excited to offer CEREC technology to our patients, which has completely streamlined the crown process. What used to take 2-4 weeks to complete can now be completed in one appointment at our office. You'll leave our office after your appointment with a fully functioning and aesthetically pleasing dental crown.
How Does CEREC Work?
CEREC utilizes 3D technology to scan an image of your tooth directly to our milling machine located in our office. Dr. Hadad, your dentist in Brownstown, will use the image to customize your crown and shade it to match your existing teeth and complement your smile.
CEREC will mill your crown while you wait, so Dr. Hadad can place it permanently and ensure an accurate fit. CEREC uses high quality porcelain to fabricate your crown, so you can rest assured that you're receiving an exceptional restoration designed to last for many years.
Contact Ultimate Dental
If you have a tooth in need of repair, don't let time constraints deter you from completing your treatment. In a little over an hour, you can have a fully restored and functioning tooth again. Call Ultimate Dental today to learn more!