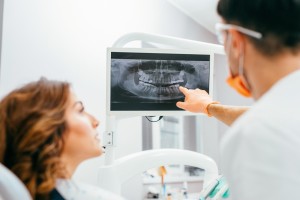 During the school year, it can be difficult to find time for your family to visit your dentist. Between making breakfast and packing lunches, getting the kids to school on time, and oh—not to mention that you actually make it to work on time, the week can seem like a blur! But, now that summer break is around the corner, it's the perfect time to get all your loved ones the dental care they need. If you're in need of a new dentist, don't waste your time surfing the web for a "dentist near me," simply review what Dr. Sammi Hadad has to offer at Ultimate Dental!
You Need a Dentist That Loves What They Do!
Anytime you're searching for a health care professional, you should look for an expert that genuinely looks forward to going to work in the morning. The more compassionate an individual is about their career field, the more involved and invested they will be. At Ultimate Dental, Dr. Hadad raves about her passion for the dental industry because she can be both professional, helpful, caring, kind, and considerate during her daily work. She was originally attracted to dentistry for the opportunity to help patients while still peaking her interest in the medical and scientific field. Every time Dr. Hadad completes another day of successful dental work, she leaves her dental practice feeling fulfilled!
Our Reviews Speak for Themselves!
Online reviews help patients weed through many options available online—this even applies when you're looking for a new dentist in 48183. You're more than welcome to read our Rate-a-Biz reviews from patients that have visited our office. We have 472 patients that were ecstatic about the personalized dental services they received and can't wait to tell you about it! Before your first visit with us, take a few moments to review them. You'll feel more confident than ever about our helpful dental team and what we can do to help you reach your optimal dental health.
We Stay Two Steps Ahead with Dental Technology!
If you're still busy during the summer break, completing convenient quick appointments may be high on your priority list. We totally understand! Ultimate Dental has invested in advanced dental technology like digital x-rays, dental lasers, and CEREC CAD/CAM technology to ensure that you receive dental care that meets your high expectations. Not only will your dental appointments fit into your busy schedule, but your family will receive safe care with reduced radiation, accelerated recovery times, and custom fitting same-day dental restorations.
Visit Ultimate Dental for Your Summer Oral Healthcare
It's time to get your family caught up with dental appointments that they've missed during the hectic school year. If you need a dentist that can provide caring, customized dental services, look no further. You will see what makes Ultimate Dental so great as soon as you contact us to schedule your first appointment. We're excited to invite you and your loved ones to meet the team and get to know the faces you'll be getting to know for years to come.