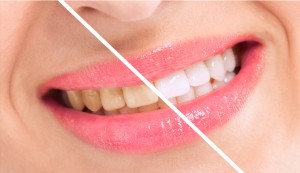 As the summer months approach, you want to look your very best as you are surrounded by friends and loved ones enjoying the great weather. Unfortunately, the appearance of your teeth can put a damper on your festivities. Tooth discoloration can quickly cause your self-esteem to fade. As a result, you might find yourself avoiding social engagements. Thankfully, you can restore your bright smile with at-home teeth whitening in Brownstown. At Ultimate Dental, Dr. Sammi Hadad will help you revamp your confidence.

Why Are My Teeth Turning Yellow?
When you first start to notice that your teeth are not as white as they once were, you might be a bit confused as to why they are darkening. Discoloration is a natural part of aging, however, there are several factors that influence the severity of the change, such as poor oral hygiene and smoking. The foods and drinks you consume also play a significant role. Anything that is darkly pigmented, like coffee, berries, and tomatoes, will cause stains to develop.
How Can I Whiten My Teeth?
As soon as your bright smile started to fade, you probably tried over-the-counter whitening products. Despite having high hopes, you quickly found that they are ineffective. They do not contain a professional-grade whitening agent, which is needed to deeply penetrate the enamel to remove more than just surface stains. The only way to achieve the results you want is with a treatment from your cosmetic dentist in Brownstown.
You may be a bit hesitant to seek professional help to reverse stains because you do not have time for a lengthy appointment. Now, however, you can whiten your smile around your schedule and from the comfort of your own home.
We offer an at-home whitening kit that contains the professional-quality agent you need to deeply penetrate the enamel for drastic, lasting results. After performing an initial consultation, Dr. Hadad will create custom-made trays from impressions taken of your teeth. We will give you the trays and the whitening agent to use at home.
You will wear the trays each day for about two weeks. Within a couple of days, you will see your teeth becoming lighter. By the end of your treatment, they will be several shades whiter for drastic results.
Will My New Smile Last?
Our whitening treatment is formulated to give you lasting results, however, you must be proactive about preventing future discoloration by maintaining a proper home oral hygiene routine and visiting your dentist every 6 months. It is best to limit your contact with stain-causing foods and drinks as well. If you still want to enjoy your coffee in the morning, brush your teeth or rinse your mouth with water afterward.
Can I Whiten My Smile Before Summer?
Ultimate Dental has the solution you need to restore a bright, white smile just in time for summer. After your first treatment, you can join our Whitening for Life Program to maintain the appearance of your teeth. We will provide you with the whitening gel at each preventive appointment to sustain the results. To get your summer smile, contact our office today to schedule your consultation.