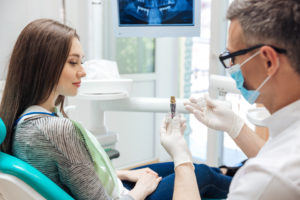 In recent years, technology has had a huge impact on our day to day life. That includes dentistry. You may have heard a dentist say they have an all-digital office. This sounds great, but what does it really mean for a practice to be digital, and how does digital dentistry impact your care? Keep reading to find out.

What is Digital Dentistry?
In the most basic sense, digital dentistry is any diagnostic or treatment technique that incorporates digital (computer controlled) technology. In a dental office, you may see any number digital dentistry tools including:
Digital impression systems

Digital x-rays

Digital photography

Early diagnosis of caries (commonly referred to as cavities)

Digital smile design software (aka smile preview for treatment planning)

3D cone beam scanners

CEREC and other same day restoration systems

Computer-guided surgical techniques like guided dental implant placement

TMJ dysfunction diagnosis tools

Scheduling, patient record, and other information storage
Benefits of Digital Dentistry
Saved time – digital files are immediately available for dental labs, specialists, and insurance providers. There's no need to mail or hand deliver physical x-rays, photos, or bite impressions. Additionally, digital files make each treatment visit much shorter. You'll be able to instantly look at your digital x-rays on a chairside monitor no need to wait for them to be developed. Digital impressions can be seamlessly captured using a handheld wand, so there's no time wasting, goupy physical molds necessary.

Precise treatment planning – digital smile design lets us show patients exactly what their smile will look like after a cosmetic, orthodontic, or restorative service. This completely takes the guesswork out of dental treatment planning for the patients. Digital treatment planning also reduces the chance for error when communicating the treatment plan with labs where restorations and other dental devices are crafted.

Early intervention – digital x-rays, photos, and cavity detection systems allow us to intervene in the earliest stages of oral health concerns. That means patients are less likely to experience advanced dental damage that requires in-depth treatments.

Maintain patient records – with a digital record keeping system, a dentist can quickly reference past treatments, pull up your x-rays to compare with current issues, and immediately update any information as necessary. There are no large paper files to store and sort through, no lost paperwork, and your information is completely secure and private.
Meet the Ultimate Dental team
At Ultimate Dental, Dr. Sammi Hadad, DDS and her team have made the choice to become a digital dentistry practice. We're ahead of the curve compared with other Brownstone dental offices, but we know this is the right choice to ensure our patients receive the best possible care. If you want to find out more about digital dentistry or any of our services, call our team today. We'll schedule an appointment or answer any questions you have. You can also come back to explore our blog. We update it regularly with educational articles about the services we provide.