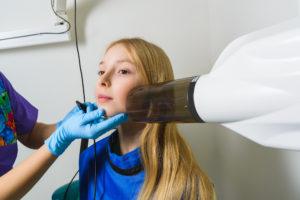 Your kids don't need a large bed or a large meal, but while we kid-size most aspects of our children's lives, we don't always know how to ask their doctors and dentists for help with this task. Recently, research has shown that kids may be receiving an adult-sized portion of dental radiography (x-rays). When you choose a trusted children's dentist, make sure to ask them about their x-ray practices for young patients. Keep reading to learn more about what to expect.

1 – Kids Need Less X-Ray Exposure
Children do not need the same level of x-ray exposure as adults do to capture the same high quality diagnostic images. Good dentists will do their utmost to prevent excessive exposure for their young patients. As a parent, you should be aware of this, and ask your dentist about their x-ray practices for kids. If your child shows no signs of developmental concerns or advanced oral health issues, talk to your dentist about limiting the number of annual x-rays.
2 – Radiography May Have Adverse Long-Term Effects
Some research has indicated that while kids may not show immediate signs of health concerns caused by x-ray exposure the long-term effects may be harmful. Kids will need to be exposed to a greater number of x-rays through the years, and the accumulated exposure may cause a number of long term health concerns. Further research is still necessary to determine exactly what adverse effects are produced, but it's always best to prevent health issues.
3 – The Six Step Plan to Keep Kids Safe During X-Rays
To ensure kids stay safe and healthy, there are six things good dentists will keep in mind. The six step plan to capture the diagnostic images we need while protecting your children's smiles includes the following:
Use x-rays as needed by specific patients
Use faster image receptors to reduce exposure time
Aim the x-rays to expose the smallest area possible
Use traditional protective coverings and thyroid collars
Use adjustable capture devices to child-size the capture area
Only use CBCT imagining when absolutely necessary
Meet Dr. Hadad
At the Brownstown Charter Township dental office of Sammi Hadad, DDS, we always go above and beyond to ensure our dentistry services are safe, effective, and personalized. That includes proving kid-safe dental x-ray practices to keep your child smiling and avoid excessive exposure to radiation. If you would like to learn more about our children's dentistry services or any of our wide range of dental services, please contact the Ultimate Dental team. We'll be happy to answer your questions and help you get the dental care we need.