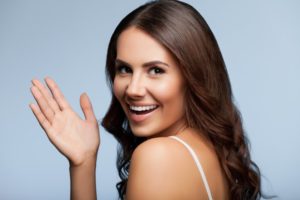 We live in a world that is all about telling us we're not good enough. If we don't have the latest smartphone or fit into that pair of skinny jeans, we need to make changes, right? Wrong. Spending tons of money on the latest fads is exhausting, and it probably won't make you feel much — if any — better about yourself. Why not invest in something that never goes out of style and that will make you feel like a million bucks? With help from your cosmetic dentist in Brownstown, you can be the owner of a smile that just won't quit.
A Beautiful Smile Helps You Shine
If there are things about your teeth that you don't like, such as discoloration and cracks and chips, you might shrink back from meeting new people. Perhaps you refuse to smile when you know that cameras are nearby and at the ready. The constant worry over how people will perceive your flawed teeth can put a major damper on your life.
Simply knowing that you have beautiful teeth will make you want to latch onto any reason to smile, and the mere act of smiling will make you happier. In fact, one psychologist wrote, "Each time you smile you throw a feel-good party in your brain."  That's because smiling releases dopamine and serotonin, chemicals that are known for boosting your mood. In fact, smiling produces more pleasure than eating chocolate!
Smiling Does Even More
A great smile will make you feel better about yourself regardless of whether you understand exactly why it is boosting your mood. But knowing some of the concrete ways that your smile affects how others view you will make you feel even more fantastic:
People with attractive teeth are perceived as happier and more successful than those with crooked teeth.
Smiling can make you appear thinner and younger.
Smiling is contagious. When you show off your gorgeous grin, the people around you will be more likely to turn their frowns upside down. You can make your coworkers and friends love to be around you just because of your infectious smile!
How to Get a Smile that Won't Quit
To get the confidence-boosting smile that will brighten up your whole life, ask your dentist in Brownstown for help. They can examine your mouth and recommend treatments to get rid of those stains, vanquish that misalignment, and repair that unsightly chip in your front tooth. You might be just one or two dental visits away from a smile that shines like the sun.
Beautiful teeth never go out of style! Why not ask your dentist about procedures that will take your grin from so-so to so-unforgettable?
About the Dentist
Dr. Sammi Hadad is passionate about helping her patients achieve healthy, attractive smiles, which is why she offers a range of cosmetic services in addition to general dentistry. If there is anything about your teeth's appearance that you don't like, we invite you to come in for a consultation. You can contact our office at 734-479-4600.