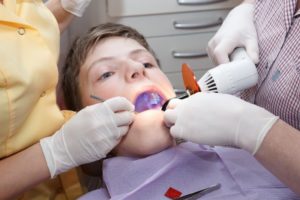 According to the Center for Disease Control (CDC), school-age children (ages 6-11) without dental sealants are three times more likely to have first-molar cavities than those with this protection for their teeth. But what is a dental sealant and how does it work? Your dentist in Brownstown will weigh in with answers and also explain why it's an important procedure to consider for your little ones. Learn more about this as you continue reading.
What are Dental Sealants?
A dental sealant is a thin coating made from plastic or other material that is painted on your children's teeth and acts like a raincoat. It protects them from the onslaught of bacteria, food and debris that seek to invade.
This procedure is necessary because of the main nemeses of children's oral health – cavities. These little holes are formed as a result of the acidic nature of bacteria that form plaque. By sealing their teeth, the acids have a much harder time permeating the hard, outer surface called the enamel.
How are Sealants Applied?
A quick and painless procedure, the dental sealant process has simple steps, including:
Initial Cleaning – The process begins with your children's dentist in Brownstown cleaning and drying the tooth.
Preparation – The next step is to prepare the tooth for the sealant by applying an acidic gel. This will rough the enamel.
Rinsing – After a few minutes, your dentist will then rinse off the gel and dry the tooth.
Gel Application – Now it's time to apply the sealant using a brush. The rough surface will allow the compound to settle into the grooves.
Hardening – The final step is to use a blue light to harden the sealant, and just like that – your children are protected!
Why Consider Sealants
Although we'd love to think that our children will always act in the manner that we've instructed them to, the fact is that it's highly improbable. Thus, they are more likely to skip oral hygiene sessions or not perform them correctly. They are also more prone to indulge in the consumption of snacks and sugar-filled drinks when uninhibited. These are all behaviors that contribute to the growth of bacteria that cause cavities. So to be safe, it's best to take precautions.
To learn more about the dental sealant process and make sure that your children are protected, just reach out to your family dentist today to schedule an appointment.
About the Author
A local product, Dr. Sammi Hadad is fully vested in the community. She earned her Doctor of Dental Surgery degree from the University of Detroit Mercy Dental School and then went on to complete a one-year residency at the VA Medical Center in Salt Lake City, UT. Dr. Hadad has since gone on to deliver 18 years of exemplary care at Ultimate Dental and can be reached for more information through her website.