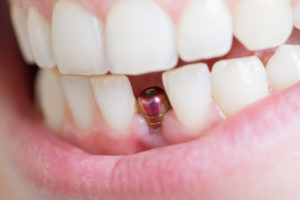 Your teeth are vital to maintaining your health, confidence and way of life. Thus, when they're missing, you're at a major disadvantage. Simple things like eating certain foods, smiling and speaking clearly become difficult. Thankfully, there's a way to restore what you've lost with dental implants in Brownstown. Before the implants are placed, though, it's a big plus to know what you can do to make the procedure successful. Read on to learn 5 helpful tips.
What are Dental Implants?
Dental implants are surgically inserted titanium posts that act as the roots of your missing teeth. By attaching and then fusing with your underlying jawbone, they reestablish the sturdy foundation that supports both your new teeth and your entire facial structure.
Once the implant is placed and an initial phase of healing has completed, your dentist will add an abutment, which will connect a crown, bridge or implant-retained dentures to the implant. The combination of the three components leave you with a fully restored smile.
For the procedure to be successful, though, requires that certain intangibles be in place.
Maintain Good Overall Health
Although the dental implant procedure is mildly invasive, it's important that patients have relatively good overall health before the procedure gets underway. One of the reasons is that different forms of anesthesia may be used for the process, and the dentist always places the patient's safety at the forefront.
Maintain Good Oral Health
In addition to having sufficient overall health, patients must address any existing dental issues before the implant surgery gets underway. The reason is that pre-existing complications like gum disease can compromise the implant and cause it to prematurely fail.
Practice Excellent Oral Hygiene
Another key to having a successful treatment process is to maintain consistent and proper oral care. This will help to rid the mouth of harmful bacteria that could infect the gums and cause the implants to unseat.
The great thing is that no changes in your normal oral hygiene habits are necessary when you're treated with dental implants. You can still brush and floss just as you normally would.
Treat Bruxism (Teeth Grinding)
If you suffer from bruxism, it's a must that it be treated. The grinding action puts unnatural stress on the crown, bridge or implant-retained dentures, and that pressure is then transferred to the implant. The result is that it can unseat prematurely.
You should speak to your dentist about treatment options, which can include a more clinical method like a mouthguard to be worn at night or a non-conventional one like meditation.
Visit the Dentist
When it comes to identifying ways to promote a successful dental implant placement, it doesn't get any simpler than maintaining visits to your dentist for preventive care. While there, your teeth will be cleaned, and the dentist will place his or her expert eyes on your implant to make sure that it's still in the best shape. If there are any changes that need to be made in your care, you'll also be informed.
Having dental implants placed is an excellent way to regain the function and aesthetics of your teeth. By applying what you've learned here, you can enjoy a lasting smile for years to come!
About the Author
Dr. Sammi Hadad earned her dental degree from the University of Detroit Mercy Dental School. Throughout her career, she's taken a compassionate approach to delivering clinically sound yet artistic care. Dr. Hadad helps patients regain the lives they once had with dental implants at Ultimate Dental. She can be reached for more information through her website.