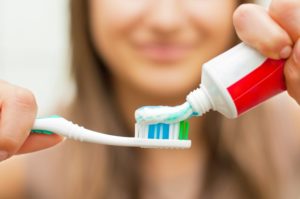 Did you know 80% of American adults ages 18 to 49 want their teeth whiter? A bright white smile is associated with confidence, youth, and good self-care, not to mention they look much better than a discolored grin. Teeth whitening in Brownstown has become one of the most popular treatments because it is relatively inexpensive, and the results are obvious. Whitening products can be found everywhere now. Did you know there are whitening toothpastes out there? Read on to learn what types of whitening are available and how effective whitening toothpaste is.
Immediate Appearance of Whitening
Whitening toothpastes can help you scrub away discoloration from tooth-darkening beverages before they become permanent. However, this will usually take two to six weeks of use before you'll see results.
To achieve an immediate appearance of a white smile, look for whitening toothpaste that contains blue covarine. This chemical can diminish the yellow appearance on the surface of your tooth. This is immediately noticeable, but it won't last as long as other methods of whitening.
Long-Term Results
Whitening toothpastes are designed to be used at least twice a day for the best results. Although you won't see results right after the first time you brush, regular use of whitening toothpaste will gradually whiten your smile and get rid of discoloration.
Whitening toothpastes can get you long-term results through a combination of chemicals that break down surface stains and abrasives that polish your teeth. These products may also contain hydrogen peroxide which is another chemical that helps to whiten the teeth.
Product Considerations
When looking for a whitening toothpaste, be sure to pick one with an American Dental Association (ADA) seal of approval. If they have this seal, the toothpaste has been thoroughly tested to make sure it's safe and effective.
Although most of these products have ADA approval, it's important to know any type of whitening comes with some risk. The most common problem you may see when using whitening toothpaste is mouth or gum irritation from the bleaching chemicals, or tooth sensitivity.
Professional Teeth Whitening
Whitening your teeth with a professional dentist is the most effective way to achieve a bright and white smile. Because this type of whitening is handled by professionals, these products have a higher concentration of bleaching solution for better and faster results. They can also whiten beneath the surface of your enamel. Most dentists can whiten your teeth within an hour, saving you weeks of applying whitening solution yourself.
Whitening toothpaste can be used to remove stains on the surface of your teeth. But, if you want a faster and more effective treatment, contact your cosmetic dentist in Brownstown for professional whitening that will make your smile radiant.
Meet the Dentist
Dr. Sammi Hadad has practiced at Ultimate Dental in Brownstown since 2000. She grew up in the area and takes pride caring for patients in her community. She offers a variety of whitening solutions because she knows that a shining smile can improve confidence and self-esteem. She can be contacted through her website or by phone at (734) 479-4600 for any questions.