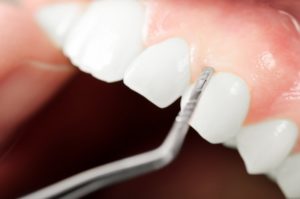 Did you know gum disease affects around 85% of the adult population in America at some point in their lives? Gum disease, as common as it is, rarely gets talked about in comparison to the health of your teeth, but your gum health has a direct link to your overall health. This disease is also the leading cause of tooth loss. Keep reading to discover what gum disease in Brownstown is, how it's caused, and how it can be treated.
What is Gum disease?
Gum disease, known to dentists as periodontal disease, is a chronic infection of the gums that can result in health problems ranging from mild inflammation to tooth loss. This disease develops in between your gums and teeth, and it causes inflammation that can eventually cause your gums to recede.
The severity of this disease is judged by the depth of space below your teeth that forms as your gums recede. If this disease persists, it can break down your gum tissue, and deteriorate your bone, which leads to tooth loss. It has also been linked to increased risk of heart disease and stroke.
What Are the Signs of Gum Disease?
Because your oral health is directly linked to your overall health, you should see your dentist if you notice any of these symptoms:
Persistently bad breath
A change in how your teeth fit together
Red, swollen, or puffy gums
Tender gums
Bleeding gums
Pain when chewing
Unusually sensitive teeth
One of the most common first signs of gum disease is if your gums consistently bleed when you brush or floss. If this happens, you may need periodontal therapy in Brownstown.
Gum disease is typically caused by poor oral healthcare like lack of brushing and flossing. However, your chances of getting gum disease increase if you smoke or use tobacco products, have diseases that affect your immune system, or if you have crooked teeth.
What Are Some Treatment Options?
There are a few different treatment options that are available, and your dentist will choose the right one for you based on the severity of your gum disease. In combination with an improved oral health routine, your dentist may also recommend:
Scaling: The removal of plaque, tartar, and damaged tissue around and below the gumline.
Root planing: Your dentist will smooth out your tooth roots to prevent further plaque and tartar buildup.
Antibiotic therapy: You can take oral or topical antibiotics to reduce the number of bacteria in your mouth.
The best way to prevent gum disease is to establish a regular brushing and flossing routine. Now that you know what gum disease is, have you noticed any of the symptoms mentioned above? Contact your dentist to discuss the health of your gums.
Meet the Dentist
Dr. Sammi Hadad is a Michigan native who loves serving her community. She enjoys helping others, while also making them happier with improved smiles. She currently practices at Ultimate Dental, and she can be contacted through her website or by phone at (734) 479-4600 for any questions you may have.