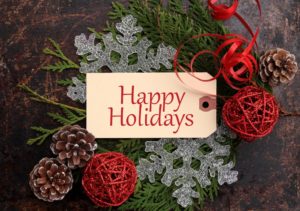 As we approach the end of another year, Dr. Sammi Hadad and our team at Ultimate Dental want to take a moment to thank you for choosing us as your family dentist in Brownstown. We embrace your family as our own while we help to create generations of healthy, beautiful smiles. While you gather with your own friends and loved ones, we wish you all happy holidays. As we enter the new year, we look forward to continuing to serve your needs for high-quality dentistry.

Achieve a Beautiful Smile
Besides the preventive and restorative services you need for healthy teeth and gums, we can also help you transform your smile with cosmetic dentistry.
Teeth Whitening
As you age, your enamel naturally becomes thinner, causing more of your dentin to be visible, which has a yellowish hue. This makes your teeth darken over time. When you combine it with stain-causing foods and drinks, poor oral hygiene, or smoking, your discolored teeth can make you feel insecure about your appearance.
Dr. Hadad can bring new life to your smile with a teeth whitening treatment. A highly concentrated whitening agent deeply penetrates your enamel to reveal whiter teeth. You can get the drastic results you want using a take-home kit. In as little as 2 weeks, your teeth become several shades brighter.
Porcelain Veneers
Veneers allow you to fix several cosmetic imperfections using one minimally invasive treatment. By attaching the thin shells to the front surfaces of your teeth, they instantly improve their color, size, shape, and proportion. This is often the perfect solution to cover dark tooth discoloration, chips, cracks, gaps, and minor alignment concerns.
The use of porcelain allows the veneers to be thinner, so less of your tooth's structure is removed during the bonding process. This makes the treatment minimally invasive while creating natural-looking results. Your new smile can last for an average of 5 to 10 years before needing to be replaced.
Direct Bonding
Direct bonding provides a simple solution to correct several issues, like chips or discoloration. A composite resin material is customized to match the color of your enamel. It is applied to your teeth and sculpted into the desired shape. It is quickly hardened using a special light and polished before you leave. After just one appointment, you will have a flawless smile using a simple and cost-effective treatment.
Happy Holidays!
As you celebrate the holidays with your loved ones, we wish you all the best. We look forward to seeing you and your family next year to help you achieve optimal oral health.
About Dr. Sammi Hadad
Dr. Sammi Hadad proudly serves the community through high-quality dental care. She combines the art and science of dentistry to create personalized treatment plans for her patients. Besides the health of your teeth and gums, she also offers the solutions you need for a confident smile. If you are ready to get the smile of your dreams, contact our office today to schedule an appointment.