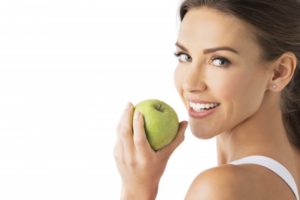 Have you seen teeth whitening products but been too leery to purchase them? If you're looking for natural ways to brighten your smile at home, it could be as easy as eating certain foods. Some foods and drinks can stain your smile and some can actually whiten it over time. Your family dentist in Brownstown gives you the do's and don'ts on maintaining your bright smile.
What Won't Brighten My Smile?
If you're looking into natural and easy ways to whiten your smile, it's good to know what not to do to stain it. There are foods and drinks that are notoriously known for discoloring your teeth:
Coffee
Black tea
Red wine
Tomato sauce
Soy sauce
Blueberries
Beets
Because these foods and drinks are known for staining your teeth, it may be a good idea to not consume them. A good rule of thumb is if it'll stain a white shirt, it'll most likely stain your teeth.
What Can I Eat to Whiten My Teeth?
There are quite a few foods you can eat that will help brighten your teeth over time. The first is strawberries. They contain an enzyme known to help with whitening your smile called malic acid. If you rub them over your teeth , let it sit for about five minutes, and rinse and brush daily, you'll notice that your smile will start to look a bit brighter.
Apples, celery and carrots all act as natural stain removers because when you eat them, it increases how much saliva your mouth produces. They can also kill bacteria by producing more saliva, and because they're crunchy, they scrub your stains away. Tart oranges and pineapples also work to whiten your teeth by producing extra saliva. It's important to keep in mind that if you eat too much acidic fruits, they can actual damage your enamel.
You may have noticed that some toothpastes contain baking soda, and that's because it's also a natural teeth whitening product you can find at home. It's best to not brush every day with just baking soda because it's a bit abrasive, so it's a good idea to get a toothpaste that contains it, or just brush every once in awhile.
Lastly, yogurt, milk and cheese all contain lactic acid which helps protect your teeth from decay. Researchers have long thought that yogurt contains proteins that can help protect your teeth against harmful acids and fight cavities. Because these products are mostly white, you can eat them often without having to worry about them staining your teeth, like tomatoes or coffee.
Whether you're looking for home remedies or into whitening products, it's always important to maintain your best smile by visiting your dentist in Brownstown for your semi-annual checkups.  This can help keep your oral health on track, and your dentist can offer you other great options for teeth whitening.
About the Author
Dr. Sammi Hadad delivers the highest quality of care with compassion to her community of Brownstown. Her passion is helping her patients feel good about their oral health and walk out of her office flashing their confident smile. Her main focus is providing her patients with attentive and gentle care, which is why so many come back. For any questions or to schedule an appointment, you can visit her website or reach her at (734) 479-4600.