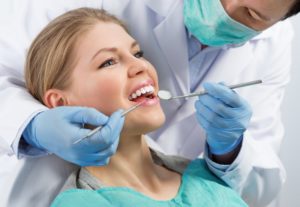 It's almost 2020, which means your dental insurance company is eagerly counting down until the clock strikes midnight on December 31. Why? It's because in a matter of seconds, anything that is left behind and unused on your insurance policy is sent right back into their hands, effectively putting your deductible and annual maximum back at $0. If this sounds like a bad dream, unfortunately, it's a reality and while you can't stop it, you can prevent how much, if any, your insurance receives when January 1 arrives. Hear from a dentist who explains what you can do to keep more of your hard-earned money in your pocket and out of the hands of your insurer.
Poof…They're Gone
Magic tricks are supposed to be fun and exciting, but the one your dental insurance company pulls on you come January 1 isn't that way at all. When it comes to your benefits, they do not roll over with the new year, so when you see that $0.00 on your account dashboard, it's because your insurer has swiped what you've accumulated throughout the year and placed you back at the starting line. This means you must now work toward meeting your deductible, again, as well as your annual maximum.
If you weren't aware, more than $150 billion is wasted on unused dental benefits each year. Don't want to add to that total? Here's what you need to do to ensure your money is used to care for your dental needs throughout the year.
Don't Wait…Get Your Teeth Cleaned
If you need a reason to get your teeth and gums regularly checked and cleaned, here are three:
Depending on your individual policy, it is likely that your insurance company agrees to pay anywhere from 80-100% of preventive services. This includes dental checkups and cleanings twice a year.
Your two annual visits allow you to take care of your oral health right now without waiting for the money to pay for it. You pay little to no out of pocket costs for these visits.
You avoid problems from developing in the future as a result of poor oral hygiene.
Preventive care is the most important step you can take to keeping your mouth healthy and decay and disease-free, so don't wait! Get that second checkup and cleaning today.
Schedule Your Treatments Before the Year Is Over
If you've met your deductible, and your dentist suggests a dental crown is necessary to protect a weakened tooth, find time in your schedule to get it placed before the year is over. If you don't, you'll be paying for the crown out of pocket since you'll be forced to, once again, meet your deductible before the insurance company will pay their share of your expenses.
Don't Take the Risk…Avoid Increasing Fees
While you can't stop your insurance company from increasing your premium, deductible, or even your annual maximum, you can make sure that you get the care you need while it's currently available. Insurers are also known to eliminate certain benefits, so if you need a tooth removed, it's best to have it done while it's covered instead of waiting and discovering your insurance company will no longer cover such a procedure.
It can be difficult trying to find the time to get in to see your dentist, but let us assure you that it's worth it, especially since it can save you lots of time and money in the long run. Don't let your insurance company take more than what they already receive from you each month. Keep your money safely in your pocket and get the dental care you need now.
About the Author
Dr. Sammi Hadad and the team at Ultimate Dental want you to take care of your teeth and gums. From regular dental checkups and cleanings to a proper at-home oral hygiene routine, you can prevent problems from occurring later on down the road. Fortunately, with dental insurance, you can take better care of your oral health now, but the key is to use it to your advantage. How do you do this? By letting Dr. Hadad and her expert staff review your policy and help you maximize your benefits, so you save the most money before the year ends. To find out how you can make the most of your dental insurance policy, visit our website or call (734) 479-4600.