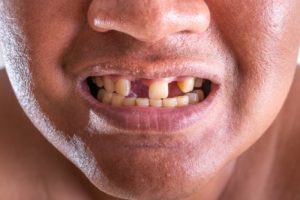 You've been missing a molar for a few years now. Since it's in the back of your mouth, you figure you don't need to replace it. After all, no one's going to see it, so why bother? As it turns out, there are plenty of reasons why you should. Not replacing missing teeth can lead to cosmetic and even oral health consequences, even if it's a back tooth. Keep reading to learn why you should fill the gap in your mouth, and a few of the options you have.
Why You Should Replace Your Missing Teeth
Besides the aesthetics of missing one or more teeth, there are several other reasons to replace them, such as:
Other Teeth Might Shift
Your teeth naturally push against each other to keep them all neatly lined up. When one tooth is gone, the others have nothing to push against. As a result, they will drift into the gap created by your lost tooth. This can lead to a change in your bite as well as an increased risk of tooth decay and gum disease.
Your Face Could Change
The loss of even a back tooth can cause your jawbone to deteriorate and your facial muscles to droop over time.
It May Affect Your Mental Health
Chewing with a hole in the back of your mouth is no fun. It may also make it more difficult to pronounce certain words. As time passes, this can grow irritating, causing your mood to plummet.
You Could Develop TMJ Disorder
The joint just in front of and under your ears is called your temporomandibular joint, or TMJ. Missing a tooth affects the delicate system they're connected to, causing TMJ disorder, which can contribute to teeth grinding and jaw pain.
What Are Your Options for Replacing Your Missing Teeth?
Modern dentistry has come far enough that you have a few options for filling the gap in your smile, like:
Bridges
A bridge consists of two dental crowns anchored on your remaining teeth at either end of the gap, with as many crowns as needed in between.
Dentures
Dentures are made up of artificial teeth attached to an acrylic base the color of gum tissue. A denture can be either full (replacing all teeth on an arch) or partial (replacing just a few teeth).
Dental Implants
By far the most lifelike and comfortable tooth replacement option is dental implants. These titanium screw-shaped posts are placed into your jawbone to replicate the roots of your lost teeth and then topped with a realistic-looking crown, bridge, or denture, depending on how many teeth you're missing.
No matter where in your mouth your missing teeth are located, it's well worth it to get them replaced. Ask your dentist which option would be best for you!
About the Author
Dr. Sammi Hadad is a dentist in Brownstown, MI who obtained her doctorate from the University of Detroit Mercy Dental School. She also has a Fellowship in geriatric dentistry as the chief resident at the VA Medical Center in Salt Lake City, so she has some experience replacing missing teeth. To learn which option would be best for your smile, visit Dr. Hadad's website.