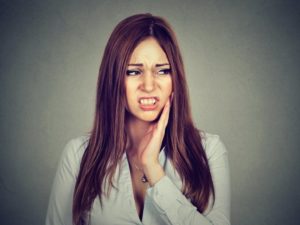 Are you experiencing unusual or uncomfortable dental symptoms, but are unsure whether to call your Brownstown Township emergency dentist? Not all dental emergencies are as easy to identify as a cracked or knocked-out tooth. Sometimes, easily overlooked annoyances in your smile are indications of a more serious underlying issue. Here are ten symptoms that may be early warning signs of a dental emergency.
1.) The Taste of Metal in Your Mouth
Do you have metal fillings or crowns? If they become damaged, you may taste metal in your mouth. They need to be repaired right away before the exposed tooth becomes infected or cracked.
2.) A Long-Lasting Canker Sore
Canker sores and other cuts in your mouth should naturally heal on their own within two weeks. If they don't, they may be infected. Professional treatment is needed to remove the bacteria before it spreads.
3.) Constant Headaches
If you regularly wake up with headaches or jaw soreness, you may be grinding your teeth in your sleep. This is known as bruxism, and it can weaken enamel, break teeth, and cause TMJ disorder if left untreated.
4.) Aching, Easily Bleeding Gums
Inflamed, tender, and easily bleeding gums are common signs of gum disease. This bacterial infection can lead to tooth loss, permanent jawbone damage, and an increased risk of heart disease without periodontal therapy from your dentist.
5.) Intense or Worsening Toothache
While many factors can cause tooth pain, a severe toothache that worsens over time could be the result of an infection in the tooth's pulp or roots. The sooner you see your dentist, the faster they can relieve your pain and prevent permanent damage.
6.) Numb Tooth
If a painful tooth suddenly goes numb, its roots or nerve may be damaged. This could be due to an injury or infection, both of which require prompt treatment to preserve the tooth.
7.) Loose Permanent Tooth
A permanent tooth should never feel loose. If it does, the connective tissues that hold it in place could be infected. It's vital that you see your emergency dentist right away to stabilize it and prevent it from falling out.
8.) A Small Bump on Your Gums
If bacteria and pus have built up around your tooth's roots, a small, pimple-like bump may form on the nearby gums. Don't pop it! Let your dentist safely drain it and contain the infection.
9.) Toothache Accompanied by Fever or Fatigue
If an infection in your mouth becomes serious, it will trigger the body's immune response and could cause you to develop a fever or fatigue. If not eliminated quickly, the dangerous bacterium can spread to other parts of your body.
10.) Swelling in Your Jaw, Face, or Neck
Another warning sign of a serious infection is swelling. This dangerous dental infection can become life-threatening if left untreated, so seek emergency dental care immediately. If you are having difficulty breathing or swallowing, go directly to your local ER.
Any new, unusual, or worrying dental symptom should be looked at by your dentist right away. However, knowing when to seek emergency care may help save your smile one day!
About the Author
Dr. Sammi Hadad of Ultimate Dental has been serving Brownstown Township, MI and the Downriver area for over two decades now. She earned her DDS from the University of Detroit Mercy Dental School as well as a master's in public health from the University of Utah. With both early and evening appointment hours, state-of-the-art technology, and decades of experience, she can help you overcome any dental emergency. If you are experiencing a dental emergency, don't hesitate to contact her via her website or at (734) 479-4600.