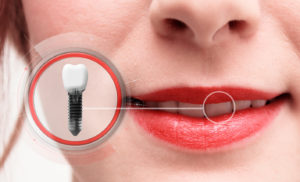 Dental implants are one of the most effective and reliable ways to replace missing teeth. In fact, according to the American Association of Oral and Maxillofacial Surgeons, dental implants have a success rate of approximately 95%! While most people with missing teeth make good candidates for implant treatment, some cases can be more complex than others. Here is a quick look at some of the factors that make a dental implant case complex.
Multiple Missing Teeth
Dental implants can replace more than just a single missing tooth – in fact, they can restore an entire row of teeth! Of course, the more teeth that need to be replaced, the more complex the implant treatment plan may be. When replacing multiple missing teeth or an entire dental arch, your dentist will have to consider where to strategically place the implants to best secure an implant-supported bridge or denture.
Weak Jawbone
The roots of natural teeth stimulate the jawbone and keep the bone tissue healthy. When teeth go missing and that stimulation is lost, the jawbone can slowly deteriorate over time. If your jawbone is not dense enough, then it may not be able to provide the necessary support for a dental implant.
However, low jawbone density does not automatically disqualify you from getting dental implants. Instead, your dentist may recommend you first undergo a procedure called a bone graft. Bone grafting involves transplanting healthy bone tissue from elsewhere in the body to fortify the jawbone. Bone grafting is a common procedure that helps create the strong foundation needed for successful dental implantation.
Grinding Your Teeth
Teeth grinding, also known as bruxism, if often caused by stress and anxiety and can wear down tooth enamel over time. For individuals with dental implants, the pressure from teeth grinding may also lead to bone loss around their implants or even implant failure. If you are aware that you clench your jaw or grind your teeth at night and are considering dental implants, be sure to mention this to your dentist. He or she may recommend wearing a protective mouthguard at night while you sleep.
Tobacco Use
Smoking cigarettes can dramatically increase the risk of implant failure. The nicotine in tobacco restricts the flow of oxygen and blood to the bone and tissue in the mouth, which can prevent an implant from fusing with the jawbone. In a study published in the Journal of the American Dental Association, researchers found that smokers experienced an implant failure rate of over 15%, while non-smokers' implants failed at a rate of less than 2%. So, if you smoke cigarettes and are considering getting dental implants, now is the perfect time to try to finally kick the habit!
Remember, even complex dental implant cases can be handled with ease by an experienced dental professional. Do not hesitate to reach out to your dentist to find out if dental implants are right for you!
About the Author
Dr. Sammi Hadad has 20 years of experiencing helping Brownstown residents restore their smiles with high-quality dental implants. The Michigan native has seen it all during her two decades at Ultimate Dental, from straightforward single implants to more complex restorations. To learn more about implant treatment in Brownstown, visit the Ultimate Dental website or call 734-479-4600.