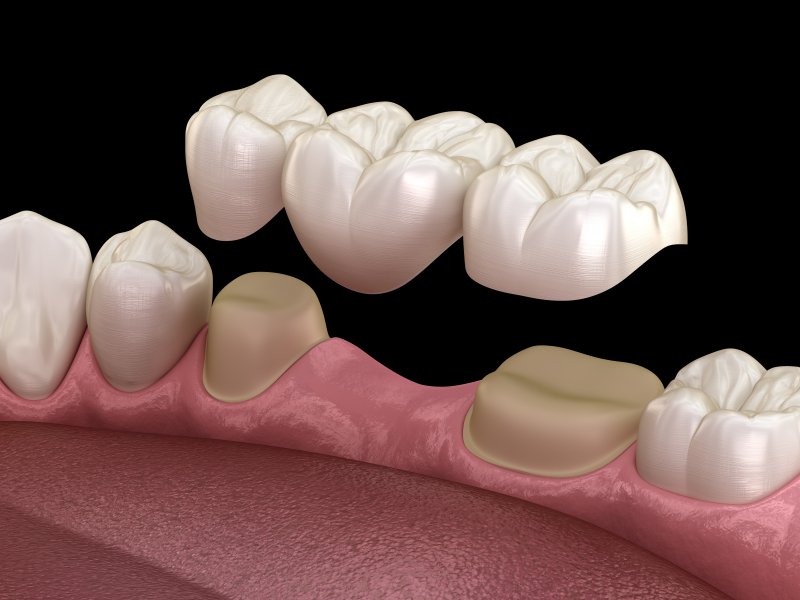 If you are looking to replace your missing teeth, there are many different factors you need to consider in order to decide which tooth replacement option best suits your needs. In addition to understanding how they look and function, you will want to know how long a tooth replacement lasts before needing to be replaced. One popular option is a dental bridge. Continue reading to learn more from your dentist about the dental bridge lifespan as well as how you can prevent them from failing.
How Long Do Dental Bridges Last on Average?
There isn't a definite answer on how long your bridge is expected to last. Depending on what source you look at, you will be given a different estimation. According to the Cleveland Clinic, they will last anywhere from 5 to 7 years. Other sources claim that they can last longer than ten years when they are cared for properly with good oral hygiene, regular dental visits, and caution when eating.
What Causes Dental Bridges to Fail?
Bridges rely on the adjacent teeth to be healthy and successful. The teeth on either side of the missing space are usually filed down in order to fit a crown over the top of them and support the replacement tooth. However, this increases the risk of tooth decay, gum disease, and the need for root canals in the surrounding teeth in the future. If either of the supporting teeth fail, so does your dental bridge.
What Steps Can You Take to Prevent Dental Bridge Failures?
Certain maintenance is required in order to keep your dental bridge from failing. Remember to take the following important steps:
Maintain Good Oral Hygiene: Even though your bridge is resistant to decay, your adjacent teeth and the other teeth in your mouth are not. It is important that you continue to brush twice a day and floss even more than usual to keep food debris and plaque from building up and causing decay and periodontal disease.
Choose Food Carefully: Remember that some foods are more tooth friendly than others. You don't want to put too much stress on the bridge because you could cause damage. Stay away from sugary and starchy foods. Instead, consume plenty of fruits, vegetables, and fiber in your diet. Also cut out things like nuts, caramel, sticky candy, and popcorn because they could put excessive pressure on your bridge when chewing.
See Your Dentist: Continue to see your dentist for regular checkups. They will check to ensure that the bridge and area surrounding it is in good shape.
Dental bridges aren't made to last forever, but with proper maintenance and care, you will be able to appreciate the many benefits for years to come.
About the Author
Dr. Sammi Hadad has been serving patients at Ultimate Dental in Brownstown Charter Township for two decades. She earned her Doctor of Dental Surgery from the University of Detroit Mercy Dental School as well as a master's in public health from the University of Utah. For more information on dental bridges or to schedule an appointment, visit her website or call (734) 479-4600.