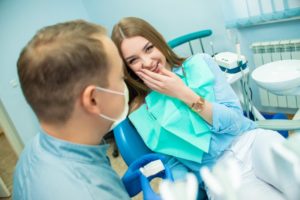 At your last checkup, did your dentist tell you that you needed a filling or two? If so, you're definitely not alone. In fact, more than 90% of American adults have had at least one cavity. While you may be tempted to avoid getting your cavities taken care of until after the holidays, getting any fillings you need before the end of the year can actually save you money. Continue reading to learn how.
What Happens If You Don't Get Fillings When You Need Them?
Halloween candy, cranberry sauce, cany canes – the last few months of the year are rife with opportunities to eat some seriously delicious foods. As yummy as they are, though, many of them are loaded with sugar. When you eat anything sugary, the bacteria in your mouth feed on that sugar and produce acidic waste that erodes your enamel, creating tiny holes called cavities.
Despite what you may have heard, cavities actually do not heal on their own. If your enamel is not repaired with a filling, then the decay could spread to the nerves in the tooth's center. Not only can this cause an intense, persistent toothache, but it will likely require more than a simple filling to treat. You might need a major procedure like a root canal. The tooth might even have to be extracted and replaced! Both of these procedures cost significantly more than a filling.
How Getting Fillings Now Could Save You Money
It might be difficult to carve out enough time during the holiday season to get your fillings, but try to find enough time before 2020 ends. The majority of dental insurance plans reset on January 1st. This means that you have until December 31st to make the most of the benefits you have left. Any coverage you haven't used by the end of 2020 disappears once 2021 rolls around, So. If you wait too much longer, you'll have to pay your deductible again before you can unlock coverage. Besides, dental insurance often covers up to 80% of the cost of fillings!
If you've recently been told that you need one or more fillings, it can be all too easy to postpone your treatment until the new year. However, taking advantage of your remaining insurance benefits can save your smile as well as your wallet. If you haven't yet scheduled your procedure, go ahead and do that before the end of 2020!
About the Author
Dr. Sammi Hadad and her team at Ultimate Dental want you to prevent oral health problems from occurring later on down the road by taking good care of your teeth and gums. Fortunately, with dental insurance, you can take better care of your oral health now, but the key is to use it to your advantage. How do you do this? By letting Dr. Hadad and her expert staff review your policy and help you maximize your benefits, so you save the most money before 2020 ends. To find out how you can make the most of your dental insurance policy, visit her website or call (734) 479-4600.