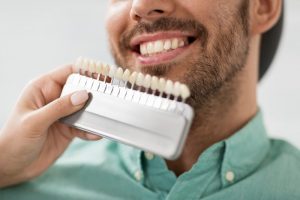 Making the choice to go with porcelain veneers as a cosmetic dental option is no small decision. Maybe you've had them for years, or perhaps you're considering them, but either way, you'll want them to last as long as possible. The great news is, there are plenty of ways you can prolong their lifetime, and your Brownstone dentist shares some tips to help you maintain your veneers.
Keeping Cavities at Bay to Protect Your Porcelain Veneers
One of the most common oral issues are cavities in the teeth, so it stands to reason why many people want to know if tooth decay is something they will still have to worry about with porcelain veneers. The good news is because the shells are made of natural bone, they are not susceptible to decay. However, the natural teeth they are attached to and the surrounding teeth still are, and unfortunately, the bacteria that cause the decay can spread from tooth to tooth. If a tooth that a veneer is adhered to suffers a cavity that is not tended to in time, the shell will have to be removed and then replaced once the decay is dealt with. This can result in a strain on your time and wallet when it comes to treatments. Here are a few tips to help you take the best care of your veneers as possible and avoid cavities:  
Don't Skip Routine Dental Checkups
Amidst the busyness of life, it can be easy to put a visit to the dentist on the back burner, but it's crucial to the health of your teeth and the maintenance of your veneers. Your dentist's trained eye can see potential issues that you can't, and the sooner they can identify them, the less time consuming and expensive treatment will be.
Use Veneer-Friendly Dental Hygiene Products
Some kinds of toothpaste contain gritty materials that are meant to help clean plaque from your natural teeth, but these products can cause wear and tear to your porcelain veneers over time. Your dentist will be able to recommend veneer-friendly products to keep them clean and looking great at the same time.
Floss and Brush Daily
This truly is the simplest thing you can do to extend the lifetime of your veneers and maintain good oral health. Floss and your toothbrush work together to remove plaque and bacteria from in between and all-around your teeth to help ward off decay.
Choose Fluoride-Based Products
There's a reason why your dentist scrubs your teeth with fluoride when you go in for regular cleanings. It is highly effective when it comes to protecting your tooth enamel, so opt for kinds of toothpaste and mouthwashes that contain it.
Porcelain veneers are an extremely common and popular cosmetic option, chosen even by many celebrities. Make sure to follow these tips to keep them in good shape so that you can have the smile of your dreams for years to come!
About the Author
If you're wanting the highest quality of cosmetic dental care, look no further than Ultimate Dental. Dr. Sammi Hadad is a skilled master when it comes to the art of cosmetic dentistry and meticulous with every detail of her work. Her priority is to make sure that her patients feel comfortable and at home during the time they spend at her office. If you would like to schedule a consultation, you can do so online or call us at (734) 479-4600.