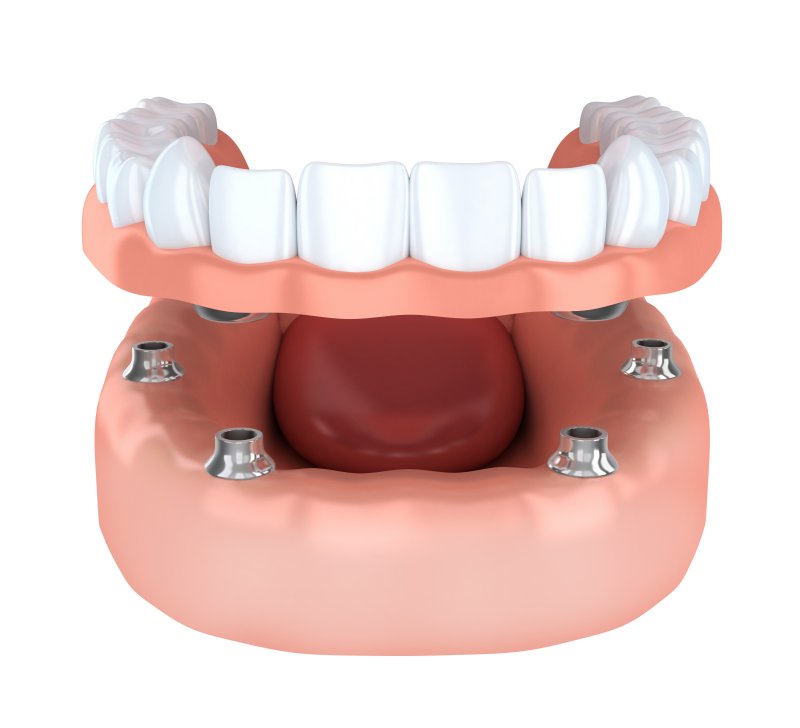 Are you a denture-wearer? Do you become frustrated with the accidental slippage you experience when attempting to eat or speak? Are you ready to get back more of your time when cleaning your prosthetic? If so, you may find that implant dentures can give you the results you desire. Read on to learn more about the advantages of choosing dental implants over your traditional dentures and why you'll see a drastic improvement in your quality of life.
The Pitfalls of Traditional Dentures
For centuries, people have relied on traditional dentures to improve the look and functionality of their smiles. When a row of missing teeth causes issues with eating and speaking, dentures proved to be the only viable solution designed to restore an individual's appearance and ability to perform daily oral tasks. While dentures have changed significantly in their design over the years, the same frustrations still exist. From the high maintenance involved in caring for your aligners as well as the frequent relining and replacing every few years, to the sudden slip of your prosthetic when eating, dentures certainly leave much to be desired.
As a result, many individuals become discouraged and either live without any type of prosthetic or turn to an alternative solution like implant dentures.
What Are Implant Dentures?
Implant dentures are a viable tooth replacement solution that requires between 4 and 6 dental implants to be surgically placed into your jawbone. Unlike regular dentures that sit on top of your gums and rely on your natural suction, implant dentures are secured into place. They can either be fixed or removable, but they offer patients a more stable, functional, and longer-lasting form of tooth replacement.
One of the greatest advantages that come with implant dentures is that they mimic the natural tooth structure from the root to the crown. This means that it continuously stimulates your jawbone each time you bite down or chew. This unique benefit allows for a more youthful appearance and reduced likelihood that facial collapse will occur. For individuals with traditional dentures, the jawbone continues to weaken over time, causing changes in a person's facial shape as well as a narrowing of the jaw, which causes the denture to no longer fit correctly.
Additional Advantages of Implant Dentures
No matter if you choose a fixed or removable denture to rest on top of your implants, the truth is that you will experience far greater benefits by opting for a more permanent prosthetic, such as:
A chance for a better quality of life. You'll no longer feel embarrassed by your prosthetic, and you'll be more likely to engage in social situations with friends, family, and/or colleagues.
The opportunity to eat the foods you love and consume your favorite hot beverages without worrying about the potential for warping the materials or damaging your denture.
A prosthetic that is designed to last 30 years or even a lifetime with proper care and maintenance.
Substantial cost savings because you will no longer need to buy dental adhesives, cleaning supplies, or receive frequent maintenance (relining and replacing).
With implant dentures, you can expect more out of your daily life. Choosing a more permanent solution will give you the ability to embrace a new way of living, allowing you to feel more confident and take advantage of greater opportunities.
About the Author
Dr. Sammi Hadad and the team at Ultimate Dental want you to take care of your teeth and gums. But if tooth loss is causing you to miss out on your favorite activities and daily tasks, it is time to consider how Dr. Hadad can restore your smile with the help of implant dentures. Using trusted and proven prosthetics to help you regain your ability to eat and speak with ease, you can enjoy a healthier, beautiful, and fully functional smile that can last a lifetime. If you're ready to do something about your tooth loss or make the switch from dentures to dental implants, visit our website or call (734) 479-4600.