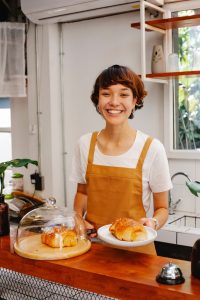 If you're like many people, you might crave a sweet treat after a long day. Before you reach for a cookie or another snack, it's important to pause and consider your teeth. Believe it or not, snacking can affect your oral health. If you're not careful, you can damage your smile while trying to satisfy your sweet tooth. You don't need to let the foods you eat leave a lasting mark on your dental health. You can protect your smile while enjoying an afternoon snack.
Snacking and Your Oral Health
The biggest threat to your oral health is tooth decay. Although it's preventable, at least 92% of adults have had a cavity in a permanent tooth. Besides your oral hygiene habits, the foods you eat are the largest contributor to cavities. When you eat sugars and starches, they combine with your saliva to create an acidic plaque that erodes your enamel. The more often you snack on sugary foods, the more your teeth are vulnerable to decay. If you're a person who tends to graze throughout the day instead of eating regular meals, you can significantly increase your risk of cavities and other oral health problems.
Snack Smart for a Healthy Smile
It is nearly impossible to maintain a sugar-free diet, but it's best to make smart choices when picking your snacks. Only consume sweet foods and drinks in moderation, such as those that contain fructose and glucose. Instead, opt for those that are adequate sources of vitamins, minerals, and other nutrients your mouth and body need to stay healthy. Not only will you preserve your smile and maintain a trimmer waistline, but you'll also feel better.
You can promote your diet and oral health by choosing fresh fruits and vegetables, like apples, carrots, and celery. They are low in sugar while also acting as a scrub brush for your teeth to keep your smile clean between brushing and flossing. It's also important to include meat, poultry, and fish to maintain optimal oral and general health. Your dentist recommends avoiding any processed foods because they often contain added sugar.
Invest in a Healthy Smile
If you can't ignore your sweet tooth, brush and floss your teeth afterward to remove any harmful residue. If you can't get to your toothbrush, rinse your mouth with water. You can even chew a piece of sugarless gum to encourage saliva production to cleanse your teeth.
Don't forget to visit your dentist at least twice a year for a cleaning and checkup. They can safeguard your smile and detect cavities while they are still small to ensure your teeth last for a lifetime.
About Dr. Sammi Hadad
Dr. Hadad earned her dental degree from the University of Detroit Mercy Dental School and earned a master's in public health from the University of Utah. She uses her training and qualifications to create healthy smiles through personalized dental care. If it's time for your next cleaning and checkup, choose a trusted dentist. Contact our office today to schedule an appointment.