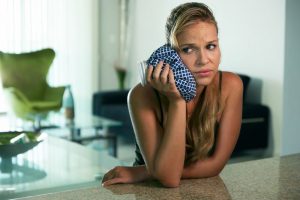 Just because you woke up on the wrong side of the bed, it doesn't mean you're going to have a bad day at work. Just because you ordered too much spaghetti at lunch, there's no rule that says you have to eat it all and feel miserable.
Just because you've decided to get teeth whitening treatment, there's no guarantee you're going to have to deal with sensitive teeth. There are steps you can take to prevent that discomfort, or at the very least minimize it.
Here are the common causes of teeth sensitivity after a whitening treatment and a game plan for you to ensure it won't be an issue for you!
Why Can Whitening Treatments Make Your Teeth Hurt?
Enamel strength and the quality of teeth vary for each person, so the level of sensitivity will vary as well when people elect to get their teeth whitened.
Enamel erosion, age, and previous dental work can all factor in, not to mention that some people just have naturally sensitive teeth. If you felt discomfort after a whitening treatment in the past, it would make sense to verify that it wasn't the result of a cavity, a cracked tooth, gum disease, or a recent dental treatment.
If you've ruled out those possibilities, the sensitivity could have resulted from the whitening treatment you recently had. The reason this can happen is the use of peroxide-based whitening agents. Peroxide, which gets below the tooth's surface to lighten it, is present in whitening toothpaste, store-bought whitening kits, and whitening treatments at the dentist's office.
The whitening treatment temporarily removes microscopic amounts of minerals from your enamel. Although they are replenished within a few days, you may experience sensitivity to the air, cold foods and beverages, brushing your teeth, or eating items that are sweet, sour, or acidic.
What Can You Do to Avoid Sensitivity After Teeth Whitening?
If you are thinking of whitening your teeth, you should discuss it with your dentist. They can conduct a "touch-and-air" test to evaluate your teeth sensitivity prior to whitening and recommend the treatment that will work best for your individual needs.
When you are having a whitening treatment at the dentist's office, you can request that they use a desensitizing treatment or a varnish to provide immediate relief.
If you are using a whitening kit at home, you could avoid discomfort by using a lower concentration of peroxide, reducing the amount of whitening treatment in the bleaching agent tray, taking a break between your treatments until discomfort subsides, or using a toothpaste designed for sensitive teeth.
Potential discomfort will probably come down to how frequently your teeth have been exposed to peroxide-based whitening agents, but maybe you have sensitive teeth in general. The best thing you can do is inform your dentist of your concerns and ask them any questions you may have so you can make your whitening treatment as painless as possible!
About the Author
Dr. Sammi Hadad grew up in the Downriver area and she feels proud to serve the people of this community. She was drawn to dentistry for the opportunity to help people and work creatively with her hands. Owning a master's degree in public health from the University of Utah, she has been at Ultimate Dental since 2000. To schedule a teeth-whitening treatment or to learn more about the many other dental services that Dr. Hadad offers, visit our website or call (734) 479-4600.