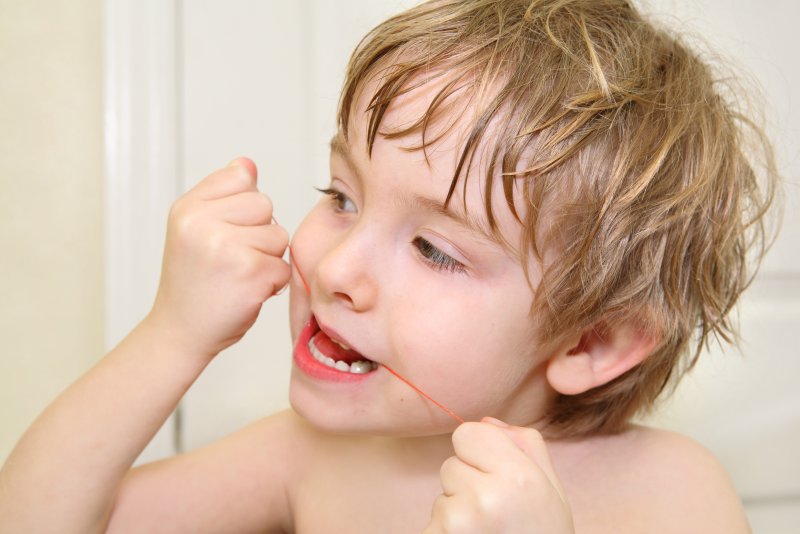 Parents usually make specific changes to their toddler's life once the latter's teeth emerge. One would be shifting them from foods like mushy peas and carrots to others that are more solid. Another obvious development would be teaching their child how to brush their teeth.
Amidst this shuffling, sadly, parents sometimes consider it too difficult to get their children flossing. To prove otherwise, listed below are three practical tips on teaching kids how to floss.
Tip #1. Show Its Importance
At least at first, little kids often don't see why they should floss. To better convey flossing's value, parents should try to sway them with a visual explanation. Here are some examples:
Cover your hand with peanut butter and have your child try removing it with a toothbrush. After some initial efforts, your kid will see that their brush can't eliminate the mess.
Eat some chocolate and remove the leftover pieces in your teeth with floss, all while your child watches. In this scenario, they will see the many food particles that the floss can remove.
Visual examples like the above show kids that some foods can't be removed with brushing alone, making flossing necessary for oral care.
Tip #2. Demonstrate How It's Done
Even if a child knows they should floss, they might not know the proper steps. As such, it's best to get things started by leading them through the process yourself:
Tear off an 18-to-24-inch piece of dental floss. Look for a variety that is gentle on your child's gums.
Wrap the floss ends around your index and middle fingers.
Gently slide the floss back and forth between your child's teeth.
Shift to a clean section of floss for each tooth.
Repeat throughout until all teeth are clean.
After a few of these demonstrations, your child should get the knack for doing it independently. Otherwise, you could also make things easier for them by using dental picks.
Tip #3. Make it Fun & Rewarding
A child could still refuse to floss because they think it's too dull. Thankfully, you can change this view by making flossing enjoyable for them. Popular approaches include:
Create a chart and give your child a gold star each day he or she flosses.
Make it a family activity and have everyone floss their teeth simultaneously.
Play your child's favorite song to make it fun and interactive when they floss.
Praise your child when they learn to floss correctly. You can even give prizes or rewards.
By employing these and other methods, your child will receive the positive reinforcement they need to make flossing a regular part of their oral hygiene routine.
It can be hard to prioritize flossing when you're already trying to lead your kids through other important milestones. It's still better to do so, though, as these tips show that teaching them to floss can be both easy and effective!
About the Practice
Ultimate Dental is a dental practice based in Brownstown Charter Township, MI. Headed by Dr. Sammi Hadad, who earned her DDS from the University of Detroit Mercy Dental School, it is known for its flexible scheduling and friendly, comfortable atmosphere. Their highly trained team also welcomes patients of all ages, from toddlers and teenagers to adults and grandparents. For more information or to schedule an appointment, it can be reached via website or by phone at (734)-479-4600.