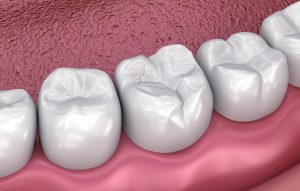 Did you know you have an alternative option to metal fillings? Whether you have a new cavity or need to replace an old filling, you can enjoy a solution that will blend in with your smile. Although amalgam has been used for generations, here are 6 reasons people are opting for tooth-colored fillings.
1. Metal and Mercury Free
Traditional fillings are made from a mixture of metals, including mercury. Although the American Dental Association supports their use, many people have concerns about the long-term risk of mercury exposure. Not to mention, there's potential for metal sensitivities. Tooth-colored fillings are made from a composite resin, so they don't contain any metal or mercury for a biocompatible solution.
2. Looks Natural
A metal filling is a tried and proven method of treating decay; however, it can stick out like a sore thumb. Tooth-colored fillings are customized to match the color of your enamel to blend in. Only a trained dental professional will know it isn't part of your natural tooth. Not to mention, the restoration won't cause your tooth to darken over time, so your filling will remain discreet.
3. Preserves Tooth Structure
Composite restorations don't require wedges to be cut into your tooth to support the filling, like when using amalgam. As a result, you maintain more of your tooth structure to preserve your natural smile.
4. Easy Procedure
You don't have to worry about a long procedure when choosing the benefits of tooth-colored fillings. After your tooth is prepared, your dentist will apply a weak acid to open the pores in your enamel to ensure a strong bond. Your tooth will be rinsed, and the resin is applied, which will have been shaded to the color of your enamel. Once it is molded into the ideal shape, your dentist will use a special dental light to harden the material quickly. Your tooth will be smoothed and polished, allowing you to walk out of your appointment with a beautiful, healthy smile.
5. Durable
Although tooth-colored fillings don't contain any metal, they are durable. They can last for 5 to 10 years before needing to be replaced, but it isn't uncommon for composite fillings to thrive for much longer with the correct care.
6. Covered Under Dental Insurance
Every dental insurance policy differs, but more plans offer coverage for tooth-colored fillings. If your dentist determines the treatment is medically necessary, you can use your dental benefits to lower the amount you pay out-of-pocket after meeting your annual deductible.
Invest in a Healthy, Attractive Smile
Don't use an outdated method to treat tooth decay. Invest in a biocompatible solution to enhance both the health and appearance of your smile.
About Dr. Sammi Hadad
Dr. Hadad earned her dental degree from the University of Detroit Mercy Dental School and has completed advanced training in many specialties, like geriatric dentistry. She embraces the latest treatments and technologies to deliver superior care. If you are interested in tooth-colored fillings, contact our office today to request your consultation.