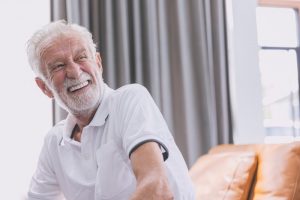 It's the holiday season! Along with wonderful times with your loved ones come the special dishes that you look forward to all year round. Unfortunately, there are some favorite traditional treats that can be a challenge to eat if you have dentures. To help you enjoy your holidays to the fullest and keep your prosthetic in good condition, here are five common holiday foods that you should be mindful o.
#1. Sticky Sweets
Sweet sticky treats, like candy canes and caramel apples, are plentiful during the festivities. While they are delicious, they can cause denture adhesives to break down and make it difficult for your dentures to stay in place. It's best to be careful of these kinds of sweets while wearing your prosthetic. Instead, opt for softer goodies like pumpkin pie.
#2. Hard Candies
Hard candies can be especially dangerous for denture wearers, as they can easily chip or break your dentures when you bite down on them. Also, their tiny pieces can easily become trapped under your restoration. A good alternative is a piece of seasonal peppermint dark chocolate, which also has the benefit of having antioxidants!
#3. Nuts
Nuts are a popular and convenient holiday snack, but they can pose a challenge for denture wearers. The hard shells of nuts make it difficult to chew and could cause damage to your prosthetic if you're not careful.
#4. Chewy Breads
Certain foods require an extra amount of chewing, which can lead to some problems if you wear replacement teeth. Chewy breads, like challah or focaccia, should be avoided when wearing dentures. The texture makes it difficult to break down the food sufficiently and could lead to gum irritation or damage to your dentures.
#5. Popcorn
From caramel to cheese, popcorn is another popular snack that makes a seasonal appearance. But they can be difficult to chew with dentures. The kernels can get stuck in your restoration and cause them to become loose or shift out of place. Light crispy crackers with dip are a better option that is not only delicious but easy on your dentures!
By opting for denture-friendly holiday treats, you'll still be able to enjoy the season without worrying about damaging your replacement teeth. This ensures your complete smile will last for many more seasons to come!

About the Author
Dr. Sammi Hadad and her team at Ultimate Dental serve Brownstown Charter Township and the surrounding areas. With over 20 years of experience, she provides comprehensive care with modern dental technology to keep your smile complete and healthy! She can help you with any of your denture needs, whether you have a full, partial, or implant prosthetic, throughout every season of the year! To schedule an appointment, contact her through her website or call (734) 479-4600.